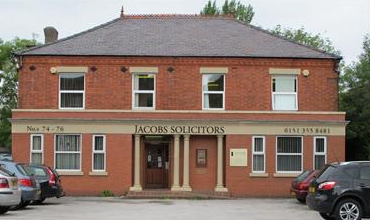 Jacobs Law has a strong history representing the people of Ellesmere Port and Chester with the firm beginning as Jacobs & Co back in October 1986.

Its founder, Maurice Jacobs, had practiced in Ellesmere Port for many years prior to that as a partner in Oliver & Co. He was a well known and well loved figure in the town with his deep gravelly voice and constant cigar and with a legal brain second to none. He dealt with all sorts of cases – including the aftermath of the Isle of Man fire in the 1970s – and also sat as a District Judge in the Chester County Court Sadly, Maurice – known to even his closest friends as "Mr Jacobs" – passed away in 2005 having retired from the firm in 1996.

The firm is now run by Ms Sue Burton and Mr Steven Alis.

Sue has been a Partner since 1989 , overseeing and developing the Private Client department, property matters, wills and specialising in assisting her Elderly Clients. Steven has worked in the legal world since 1986, firstly with De Cordova Alis and Filce and since 2007 with Jacobs Solicitors dealing primarily with the criminal department. He also sits as a Judge in both the Immigration and Social Entitlement chambers.

We have a very well qualified legal team to provide assistance and advice in property matters, wills and probate, family, crime and immigration issues.

Priding ourselves on our loyal staff who have been with us for many years, we actually care for clients and our local community.